Email marketing cannot be replaced by social media
Many digital marketers believe the myth that social media posts can take the place of email marketing. This is simply not true.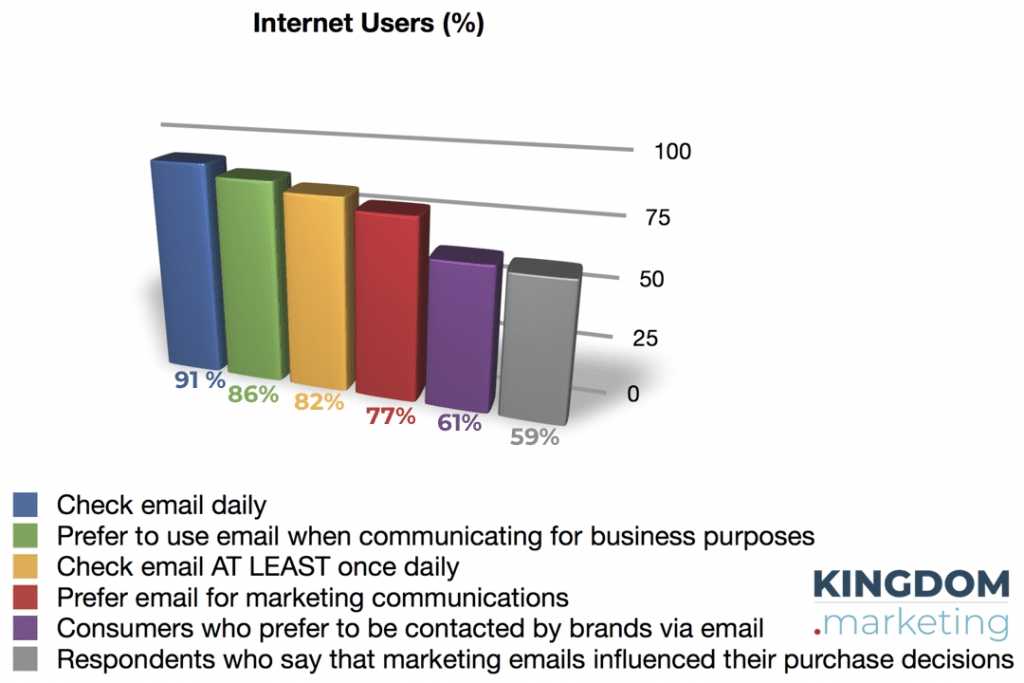 Here are 14 eye-opening reasons why:
Email is a communication channel that you own! (SalesHub) [If you don't know why this matters, please read this article on building a strong foundation.]
In 2017, global e-mail users amounted to 3.7 billion users. This figure is set to grow to 4.1 billion users in 2021. (Statista)
91% of Internet users check their email daily (SalesHub)
86% of professionals prefer to use email when communicating for business purposes. (HubSpot)
82% of people check email AT LEAST once a day  (Statista)
Welcome emails have an average open rate of 82.20% and a CTR of 21.69% GetResponse
77% prefer email for marketing communications (SalesHub)
In 2017, 75% of 689 company respondents rated email ROI as good or excellent. (Salecycle)
61%: of consumers prefer to be contacted by brands via email. However, their stated preference is for marketing emails that are less about promotions and more about providing information (Adobe, 2017)
On average, email marketing provides 22% of total sales (for client-side marketers). (SaleCycle)
59% of respondents said that marketing emails influence their purchase decisions, while just over 50% buy from marketing emails at least once a month. (Salecycle)
Email subscribers are 3x more likely to share content on social media than leads who came through another channel, according to QuickSprout.
Email has a marketing ROI of 3,228% in 2018! This is up from 3,003% in 2017. (DMA)
Email converts at a higher rate than Search, Direct Marketing, or Social Media! (SmartInsights)
The three keys to successful Kingdom Marketing
Treating your website as a home base is the first key to building an unshakeable foundation for your business or ministry.
The second key to successful Kingdom Marketing is Content Marketing and at it's core is The Kingdom Law of Sowing and Reaping.
Email marketing is the third key to exponentially expanding your reach online using Kingdom Principles. As these statistics prove, social media posts cannot replace email marketing.
To learn more about these three keys:
Register for our upcoming free video workshop, "3 Keys to Unlocking Exponential Growth Online for your Ministry or Business" at ExpandYourReach.online. Each segment of the workshop will demonstrate one of the three key principles of Kingdom Marketing.
Subscribe to this blog! Do it now so you don't miss any future posts.
And finally – you are blessed to be a blessing. You can further the Kingdom by reaching people online. Stay tuned and we'll show you how.
Save
Save
Save
Save
Save
Save
Save
Save
Save
Save
Save
Save
Save
Save
Save
Save
Save
Save
Save
Save
Save
Save
Save
Save
Save
Save
Save
Save
Save
Save
Save