Kingdom Marketing is the strategic use of proven digital marketing methods – fortifying successful techniques with rock-solid fundamentals.
What makes it unique is the foundation of biblical principles that enable you to earn trust, build relationships, and influence others.
Kingdom Marketing is best demonstrated with a story:
Learn to cast your net on the right side of the boat
Simon Peter, and Thomas called Didymus, and Nathanael from Cana of Galilee, and the sons of Zebedee, and two others of His disciples were together. Simon Peter says to them, "I am going to fish."

They say to him, "We also are coming with you." They went forth and went up into the boat, and during that night they caught nothing.

Now morning already having come, Jesus stood on the shore, but the disciples did not know that it is Jesus. Therefore Jesus says to them, "Children do you have any food?"

They answered Him, "No."

And He said to them, "Cast the net to the right side of the boat, and you will find some." So they cast, and they were not able to haul it in from the multitude of the fish.

John 21:2-6 (BLB)
The disciples had spent the night fishing using tried and true methods (man's system), but they caught nothing. Because they had years of experience using those methods they could have ignored Jesus, but they didn't.
When Jesus gave them a new way to fish – and they obeyed – their nets were overflowing!
Just as the disciples saw increase when they followed Jesus' instructions, you can expand your reach online by adjusting your own marketing strategies to reflect Kingdom principles.
Proven Digital Marketing methods used in Kingdom Marketing include:
Your website as your brand hub
Content Marketing
Email Marketing
List segmentation
Social Media campaigns
Paid ads
The Kingdom Laws and Principles at the heart of this system include:
The Law of Genesis
The Law of Purpose
The Law of Wisdom
The Law of Faith
The Royal Law of Love
The Law of Sowing and Reaping
The Law of Multiplication
The Law of Reciprocity
The Law of Attraction
The Law of Wealth
The Law of Active Pursuit or Perseverance
The Law of Influence
Expand your sphere of influence
If you are a believer, you have a mandate to influence the world for God's Kingdom. It's not an option.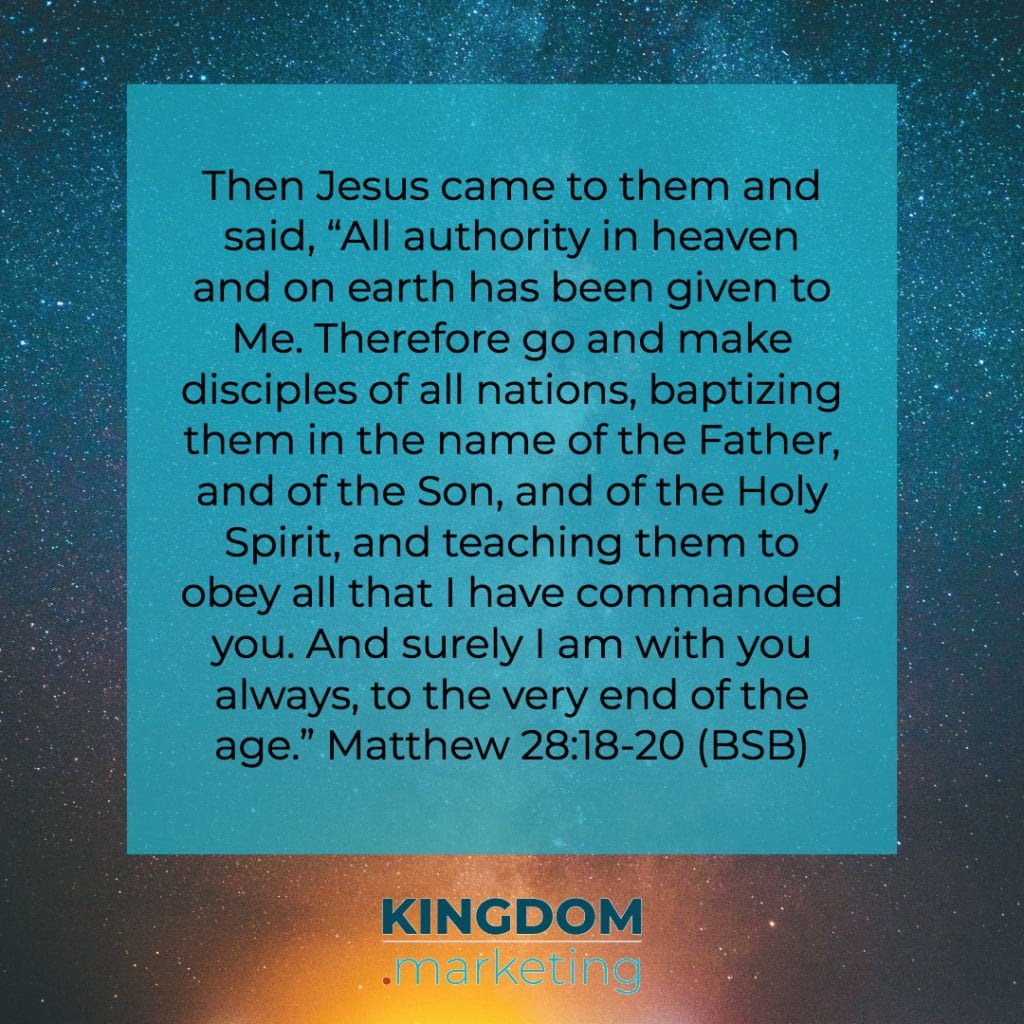 As a business owner, expanding your reach online will result in higher profits and more finances to sow into Kingdom ministries.
As a ministry, expanding your reach online will benefit you in multiple ways: 1) your message will be seen by more people, 2) this will result in building your partner base, and 3) which enables you to expand your ministry activities.
Finally, if you desire to reach more people online, subscribe to this blog! You will receive weekly updates on Kingdom Marketing topics.Save
Save
Save
Save
Save
Save
Save
Save
Save
Save
Save